Giving birth under the bombing war in Gaza as Isreal and Hamas battle on
#1
· November 14, 2023, 5:16 PM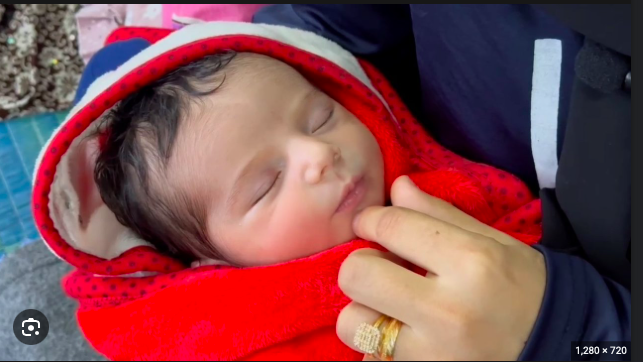 "My child doesn't have a name yet because of the war. She's four days old," says Kefaia Abu Asser. Sitting on a straw mat in a corner of a school shelter run by the UN in Rafah, in southern Gaza, Kefaia cradles her baby daughter, who is wrapped in a red blanket.
Stress and exhaustion are visible on her face. Being a first-time mother is hard anywhere in the world, but Kefaia had to do it under unimaginable trauma. Originally from northern Gaza, the 24-year-old fled her home with her family after the Israeli military warned civilians to move to the south of the Strip for their safety, Kefaia was heavily pregnant.
"I had to run and flee from one place to another. I was utterly exhausted. Initially we went to the Nuseirat Camp. But there was a bombing close to us. I saw bodies that had been ripped apart. It was extremely difficult," she tells a freelance journalist working in Gaza for the BBC.
Kefaia and her family are among the hundreds of thousands who have fled northern Gaza and, like many others, she had to walk for miles, all the while worried about being bombed. It was so dangerous for my unborn child. I was scared all the time," she says. The family finally reached the Kuwaiti Hospital in Rafah city but its maternity ward had been closed down. Kefaia was then moved to the nearby Emirati Hospital.
"It was very hard because the number of women giving birth was huge," she says. "They were coming from all parts of Gaza, from the north to the south and everywhere in between. There was a shortage of painkillers," she adds. "So they only administered it if the pain became really unbearable and only to those most in need. She gave birth with no painkillers
The World Health Organization (WHO) says more than half the hospitals in Gaza are not functioning due to lack of fuel, damage, attacks and insecurity. The UN estimates that around 50,000 pregnant women have been caught up in the conflict, and despite the state of hospitals, roughly 180 deliveries are expected to take place each day. Many pregnant women have been cut off from safe delivery services as hospitals are overwhelmed with casualties, out of fuel for generators, and lacking medicines and basic supplies - including for the management of obstetric emergencies.
Ola Abu Oali was one of them." My baby is two weeks old. He was born during the war, right here in this school," she tells Majdi Fathi, a freelance journalist working for the BBC in Gaza. Ola has another young son. They are all currently living in a different overcrowded UN school shelter in Rafah.
Both my children are getting sick. Their stomachs are bloating and they have severe diarrhoea. Every time I breastfeed my baby, he vomits. I've had to take my other child to the hospital three times to put him on a drip, but his condition has not changed," she says.
Access to clean water is one of the biggest challenges for the displaced in Gaza. The UN says each person has access to only three litres of water a day for all their needs. We don't have any water. There is no milk for my baby. And the condition of the toilets is unbearable. There is a stench and we have to wait our turn to use it," Ola says. Wafaa Yousef Fakhry Ahmed is sheltering in the same school as Ola.
"I'm pregnant. I fear for my child's life. I'm approaching my due date and I'm worried about the environment I'm living in, about getting diseases. We don't have water for basic cleanliness, " she says. Wafaa is from Beit Hanoun, near Gaza's northern border, and has also moved from place to place in search of safety.
"First, we went to a school in the Al-Muaskar area. We were asked to leave there too, so we came further south. We used carts and donkeys on some part of the way. But most of it, we walked, " she says. "We had no water with us to drink, so the only option we had was to drink from the sea. My husband was trying so hard to get one bottle for us to drink from. The (WHO) says maternal deaths are expected to increase in Gaza given the lack of access to adequate care. It says the hostilities have direct and deadly consequences for pregnancies, with a rise in stress-induced miscarriages, stillbirths and premature births. Asma is from Gaza City but is now living with her three young children in a tent in the compound of the Al Aqsa Hospital in Deir Al-Balah, central Gaza.
She's pregnant and before she was forced to flee her home, she had gone to the Al-Shifa hospital in Gaza City for a check-up. Due to the constant sound of bombings, many women suffered miscarriages at Al-Shifa. The situation is unbearable, especially for pregnant mothers. I'm really worried about my baby and about having a miscarriage," Asma says. "Waking up with aching bones has become a daily reality. We're exposed to unsanitary conditions. And we've repeatedly witnessed distressing sights of dead bodies. "Asma says she's exhausted and wants the fighting to stop.
"I plead for a ceasefire. What is the fault of the children that they have to suffer this much? What is the fault of my baby who hasn't come to life yet?"
Additional reporting in Gaza 
Uploaded files:
Click for thumbs down.
0
Click for thumbs up.
0
Last edited on November 14, 2023, 7:46 PM by TI Partners