Tekedia Investment and Portfolio Management program is designed to provide learners with hands-on experience in performing investment research, investing capital, and managing a portfolio.  The program runs for 8 weeks and it is  completely virtual. Besides some pre-recorded courseware developed by eminent capital market experts, the program includes live Zoom sessions.
In the academic component, the program prepares learners to master the institutional structure, and fundamental concepts of asset valuation, in financial markets, using analytical tools to study the valuation of different types of securities.  Fundamentally, learners are equipped to understand investment theory, portfolio development and management.
In the practical laboratory component, learners evaluate existing portfolio compositions and past performances, generate new investment ideas, research new opportunities, and make recommendations, based on quantitative and qualitative analyses. Subsequently, the recommended securities are recorded, dated and later used to evaluate the efficiency of the picks (in Nigeria and US capital markets).
The program is divided into 3 core components – Investment Fundamental and Tools; Laboratories, Research & Investment Capture; and Lessons Learned.
Cost is N180k (or $400) per participant. For the program curriculum, cost and other details, visit the program page here to register. 
Certificate Awarded: At the end of the program, participants will receive a certificate – Advanced Diploma in Investment and Portfolio Management.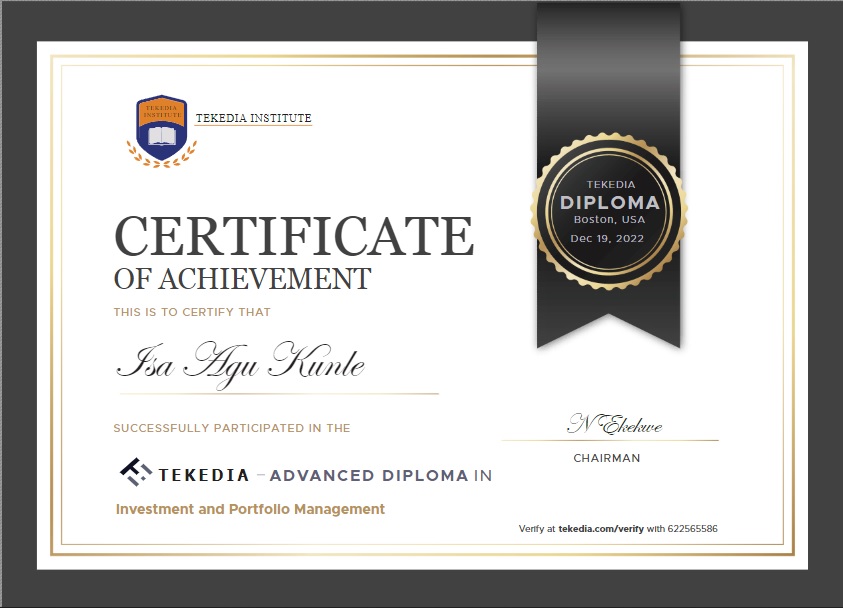 ---
Book a 1:1 (one-to-one) live video consultation and get personalized professional & business advice with Prof Ndubuisi Ekekwe here.