Verge (XVG), once considered a "prolonged dead cryptocurrency," has defied expectations by experiencing an astonishing surge in trading volume, soaring by a remarkable 383% within the last 24 hours. With its emphasis on privacy and anonymity, Verge has captured the crypto community's attention with its recent surge and impressive market cap.
With the rise of Verge, what are the potential success stories of new projects like DogeMiyagi (MIYAGI) and Litecoin (LTC)?
Verge (XVG) – From The Shadows To The Spotlight
Verge, a cryptocurrency known for its focus on privacy and efficiency, has witnessed a significant resurgence. With its 300% price surge over the past week and an impressive 24-hour trading volume of $507 million, Verge has caught the attention of crypto enthusiasts globally. Initially introduced in 2014 and gaining popularity during the Bitcoin-driven bull run in 2017, Verge aims to provide a fast and privacy-focused blockchain for seamless transactions.
The phrase "dino coin renaissance" has been used by some commentators to describe a potential shift in market sentiment away from the "meme coin" craze and towards the resurgence of these so-called dinosaur coins, which are cryptocurrencies that have been around for a while but may have been eclipsed by the frenzy of newer, trendier tokens.
Verge is one of many vintage altcoins experiencing growth. Other "proof of work dino coins," like Bitcoin Cash (BCH) and Litecoin (LTC), have recently experienced significant rises.
Litecoin – Establishing Its Presence
Litecoin, often regarded as the silver to Bitcoin's gold, has been a prominent player in the crypto market for years. With its faster block generation time and lower transaction fees, LTC offers an alternative to Bitcoin for everyday transactions.
After reaching its highest level in more than a year earlier in the session at $113.61, Litecoin (LTC), the cryptocurrency that drives the decentralised payments-focused Litecoin blockchain, is stabilising at slightly under $110.
The eighth best-performing cryptocurrency in the top 100 by market cap over this time period is LTC, which is up an astounding 22% in the last seven days, according to the cryptocurrency price statistics website CoinGecko.
As the cryptocurrency market evolves, Litecoin continues to establish its presence, solidifying its position as a reliable and widely adopted digital currency.
DogeMiyagi – Newcomer With A Noble Cause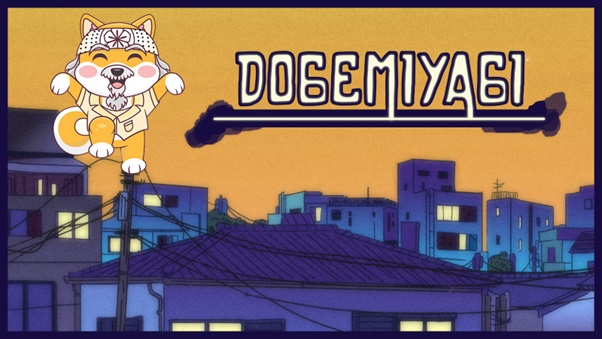 DogeMiyagi (MIYAGI) is an upcoming meme coin project that aims to build a lively community centred around its adorable mascot, Mr. Miyagi, and his values and life experiences. This community actively supports its members, shares valuable insights, exchanges DogeMiyagi NFTs, discusses cryptocurrency trends and creates entertaining memes.
At the core of the DogeMiyagi ecosystem is the $MIYAGI token, an ERC-20 cryptocurrency with various applications such as facilitating cross-border payments, NFT purchases, and participating in network governance. The project takes pride in its community-driven approach, decentralised nature, and ambition to grow into a fully autonomous Decentralised Autonomous Organization (DAO).
The project's affiliation with a worthy cause connects with both cryptocurrency fans and animal lovers as its network grows and exposure increases. DogeMiyagi has the potential to have a huge impact and grow significantly with effective execution and rising adoption.
The rise of Verge showcases the potential for even "prolonged dead" cryptocurrencies to experience remarkable comebacks in the volatile crypto market. The emergence of new projects like DogeMiyagi, driven by noble causes, and the continued growth of established coins like Litecoin highlight the diversity and opportunities within the crypto space. As these coins gain momentum and capture the attention of investors, it's an exciting time to witness their journeys towards potential success. However, as with any investment, caution and thorough research are vital, considering the inherent risks associated with the crypto market.
For More Information On DogeMiyagi:
Website: https://dogemiyagi.com
Twitter: https://twitter.com/_Dogemiyagi_
Telegram: https://t.me/dogemiyagi