Ethiopian artist Julie Mehretu breaks African art-world record again
#1
· November 17, 2023, 12:08 PM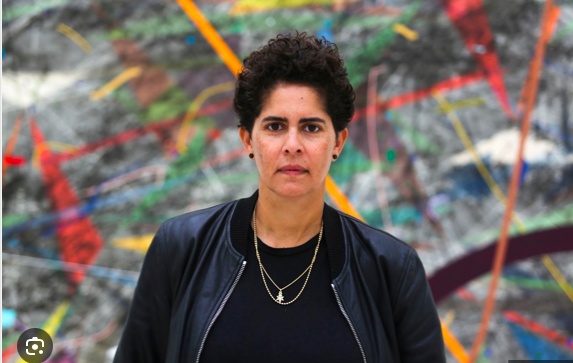 US-based Ethiopian Julie Mehretu has once again broken the record for the highest sale price of any work by an African-born artist at auction.
Her abstract painting Walkers With the Dawn and Morning fetched $10.7m (£8.6m) at Sotheby's in New York on Wednesday. The piece features ink and acrylic on canvas and takes its name from a 1920s Langston Hughes poem.
Mehretu, 52, was born in Ethiopia and moved with her family to the US in 1977 at a time of political strife. She has since become one of the most prominent names in the fast-growing contemporary African art world.
Mehretu painted Walkers With the Dawn and Morningit as part of an exhibition created in response to Hurricane Katrina in 2005 and its impact on the US city of New Orleans.
The auction saw two bidders competing for the piece with the price gradually edging higher and higher. It went for $9.5m, but the final cost, once fees are added, took it to the record-breaking sum of $10.7m Mehretu also held the previous record of $9.3m, which was set last month.
Walkers With the Dawn and Morning combines "all aspects of her inimitable style of mark making, including architectural drawing, brightly coloured vectors, and calligraphic sweeps", Sotheby's said. The sale of the work is indicative of the strong interest in contemporary African art, which is now seeing a growing market for abstract work.
"We are moving beyond that initial phase to something more discerning", Hannah O'Leary, head of Sotheby's modern and contemporary African art department told the Art Newspaper last month. Earlier this year, Mehretu was chosen to create BMW's next Art Car. Her work will be painted onto a BMW car that will be part of the 24 Hours of Le Mans race next year
just like Amoako Boafo - the Ghanaian artist who has exhibited in space;
Amoako Boafo, who has become a superstar in the art world, has moved back home to Ghana, where one of his self-portraits is being exhibited. He told journalist Stephen Smith that he never intended to be an artist.
For all Amoako Boafo's head-turning success, he is a reluctant interviewee. Not yet 40, he has had his canvases displayed in the galleries of the mega-dealer Larry Gagosian, who has hailed him as "the future of portraiture. Boafo says he used to vie with his friends to see who could do the best drawings of their favourite superheroes, but art simply wasn't a career choice when he was growing up. All I know is that studying portraiture growing up, it never dawned on me that it was a form of art that artists of colour could reference and study," he says of Gagosian's high praise. "So to see that my work is regarded in that way, is a lot to process."
His is a real-life rags to riches story. The Ghanaian started from humble beginnings in his hometown of Accra and had to help support his mother. Now his portraits of black subjects, often painted with his fingertips, can command up to seven figures at auction. He has emblazoned his work on to the fuselage of Jeff  Bezos's rocket ship, becoming one of the first artists to exhibit in space. It doesn't come more ragged, it doesn't get much richer
Boafo's the shooting star of a remarkable constellation of talent from West Africa. One of the striking features of this scene is how readily Boafo and his peers acknowledge each other's ability and pool their resources and knowhow.
Returning to his home in Accra from international travel, he was in his studio to check on the progress of an artists' residency he supports. He was also exhibiting at a group show in the Ghanaian capital. It was a rare opportunity to catch up with a man who is often abroad working on commissions, and perhaps a chance to grab a few words with him.
He was born in 1984 and his father died when he was very young. His mother worked as a cook and Boafo taught himself to paint while she was out of the house.
He showed promise on the tennis court and supported himself for a few years as a semi-pro player. He only got the chance to go to art school after one of the people his mum worked for offered to pay his tuition fees.
He graduated top of his class from the Ghanatta College of Art and Design in Accra in 2008, taking the title of Best Portrait Painter of the Year. In 2014, he moved to Europe with an Austrian artist called Sunanda Mesquita, who became his wife. Boafo's big break came in 2018 when his paintings were discovered on Instagram by Kehinde Wiley, the artist best known for his portrait of former US President Barack Obama, who recommended Boafo to the galleries he works with. I asked him about getting Wiley's backing.
"It was a major step for me," he replied. "His support came in the early days of my career, and this partly inspired my desire to continue to form relationships and share spaces with my fellow artists and creatives for the purpose of sharing experiences which would hopefully be beneficial to them.
Uploaded files:
Click for thumbs down.
0
Click for thumbs up.
0