I wrote on LinkedIn that a new trend is emerging where some foreign investors come into Africa, and offer one (unbelievable) key condition to some local fintech companies before they invest: you must move your operations to United States and re-incorporate as an American firm. The investors are helping themselves, and technically operationally supporting the companies, since running a fintech from U.S. offers a startup higher "credibility", and access to further funding, over running one from most African cities.
Also, all the industry compliance certifications are easier for U.S. entities to acquire when compared to the challenges of getting them while in places like Lagos, Nairobi and Accra. The implication is that if you are operating in U.S., you move at a faster speed than if you are in Africa. That provides a clear competitive advantage to outrun your local competitors as you work to fix market frictions in Africa.
People, money is dripping into Africa-focused startups. Last year, about $170 million was invested in 201 of such startups. Generally, the continent recorded 28% year-on-year on startup investment dollars while the number of startups which received funding grew by 32%.

Fintech leads all sectors while the NKS (Nigeria, Kenya and South Africa) were dominant on total deals. But note that not all deals are reported and also most of the companies classified as African companies are actually U.S.-based firms with (majorly) operations in Africa.  Real native African companies continue to struggle while the offshore African companies crack millions of dollars in funding.

That does not mean it is all bad; I just want you to have that in mind as you look at the data and plots. A new trend started last year where the investors come with the money and ask you to RELOCATE all the team to Silicon Valley and then make the original African city a business development office. Very unfortunate.

Yet, investors have to do what they have to do. To change that, I have proposed a ten-year tax-free incentive to venture capitalists in Nigeria. Nonetheless, congrats to all: native and offshore African startups. Now, go and win
You cannot fault the investors and the startups: what they are doing is very strategic and for many of us, we would do the same thing. Patriotism is not necessarily a business strategy especially when there are many competitors pursuing the same customers. Yes, any small advantage helps. Yet, there is a grave financial risk to nations like Nigeria and Kenya where most of the fintechs in their domains are foreign incorporated or re-incorporated. Simply, the tax money stays outside Africa, and the accumulation of wealth is not domiciled in Africa especially when the companies can apply the usual tax reduction/avoidance schemes typical in global technology space. They use those schemes to reduce tax obligations by moving receipts domain to lower tax jurisdictions. It is a double whammy for Africa: your talent has moved offshore and the tax money will not come even though the wealth is generated in your land.
Solution to Relocating African Tech Firms
One way we can stop this technology drain is to use tax policy to entice the foreign investors to do real FDI where they invest and possibly support the local firms to stay in Africa. The key is to deploy smart tax incentive to make Africa more exciting to both local and foreign investors. And if we do that, we would not just keep African firms here but could attract foreign companies to move and operate within Africa. As I have noted, Silicon Valley was built by men (and women) and our governments must put out policies to galvanize and seed our opportunities.
If you go back to history, you will notice that there was nothing like Silicon Valley before Shockley invented the transistors and legends like Gordon Moore made the two words "Silicon Valley" something iconic. So, Silicon Valley became because men made it happen. And U.S. government had a major role: the co-Founder of Intel Corp Gordon Moore worked on his post doctoral research in the Johns Hopkins University Applied Physics Lab under a U.S. government funded project. When he moved back to California to co-found Intel Corp, that government project had provided real practical insights to him. Those were catalytic in starting Intel.
One of the key enablers of the new City was the on-boarding of investors who came to seek opportunities. Sandy Hill Road, Menlo Park (California) became a street into the future of the world where many investors made homes, investing in game-changing startups. Those companies saw opportunities and came, and they also seeded new opportunities. It became a positive continuum which remains till today.
To create such enablers in Nigeria, I propose the following specifically for the VC sector:
Government should offer new VC (venture capital) firms in Nigeria a ten year tax incentive on profits if they have asset base of at least $50 million and will deploy the capital in Nigerian startups within 10 years.
Offer new VC firms in Nigeria the opportunity to repatriate 100% of profit within ten years. That will help the country to attract foreign investors to make Nigeria home.
If we have this type of incentive, we will see many VC funds making Nigeria home to explore opportunities in Nigeria and continental Africa. That influx of capital will have many multiples of benefits to our economy, our people, and the Nigerian technology space. Most especially our tech firms will stay home.
Yes, we have a tax problem but the VC industry is not going to fix that for us since it is not one of the areas where we have been unable to appropriately collect taxes. There is no tax avoidance in the sector because none exists at the moment in the VC sector. The goal of this incentive is to explore how to deepen our capabilities to ensure that future companies are created in Nigeria. Our Vice President has been working on improving the business ecosystem in Nigeria; making it easier for startups to receive capital would go a long way. A new tax regime for investors, especially at the early stages, would be strategic for the nation.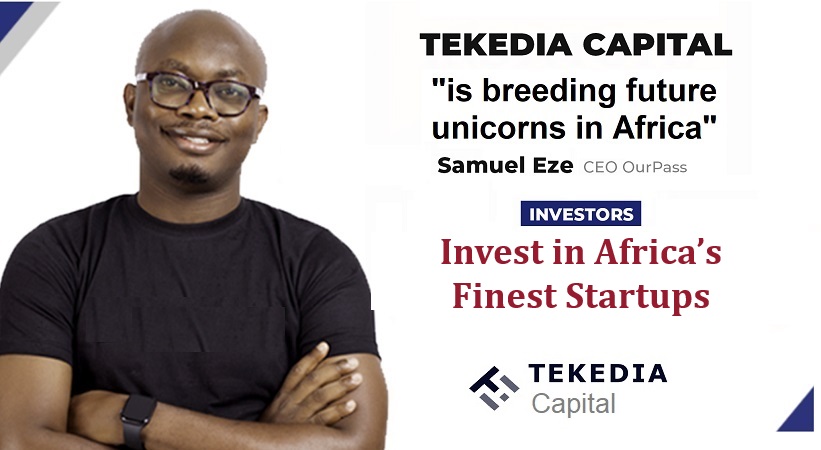 ---
Book a 1:1 (one-to-one) live video consultation and get personalized professional & business advice with Prof Ndubuisi Ekekwe here.